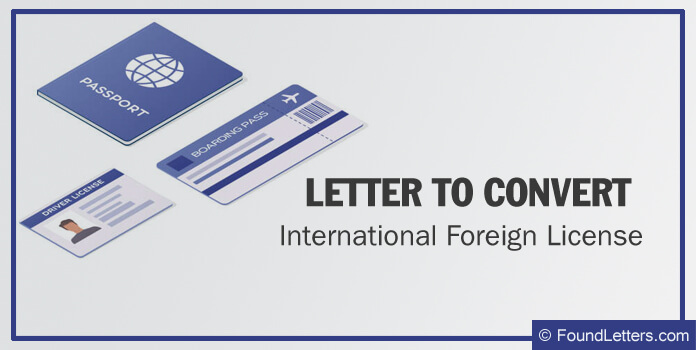 The purpose of writing a Driving License Conversion Letter is for requesting the conversion of license. This kind of need arises when the person wishes to use one license in a different country as the licenses are usually issues in the local language of the country and they need to be converted if they are to be used in some other location. So if you are also in a similar situation then writing Letter to Convert foreign driving licence is what you need.
In this post, we bring to you a Letter to Convert International Foreign License. You can use this Application for Convert of Foreign Driver's Licence to create your own request letter.
Driving License Letter Conversion Format
From:
Andy Smith
54, Richard Apartment
New York
Date: May 13, 2022
To,
The Officer
License Department
New York
Sub: Request for License Conversion
Respected Sir/ Madam,
I am writing this letter to request you to please convert my driving license. At present, I have an international driving license that was issued to me by the London Institute of Driving. Presently, I am residing in the USA and I wish to use my professional driving license here by using my same driving license.
Therefore, I would like to request you to please convert my international license into national license so that I can easily use it in the USA and drive. My license number is CND789. I have attached the copy of my license with the letter which I wish to have converted.
I hope you will consider my request and have it processed at the earliest.
Thanking in anticipation.
Sincerely,
Andy Smith
Top Sample Letters Terms: