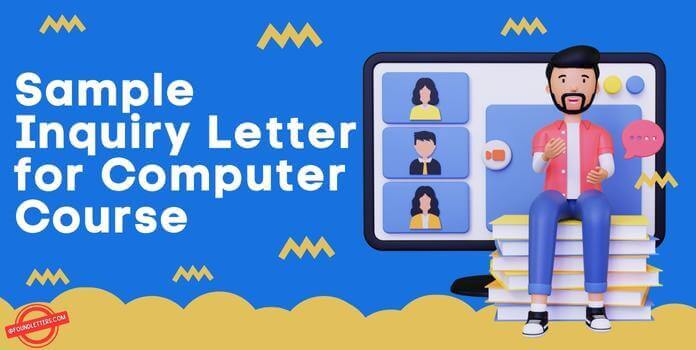 If you plan to wish to enquire about a computer course that you plan to join then you can always write an Inquiry Letter for Computer Course to that particular institution inquiring about the course and other information that you need. It is like an enquiry letter for taking admission in a course and is different from inquiry letter for purchasing computer. There are all kinds of Letters of Inquiry that can be written in order to enquire about a course or price or other things.
If you wish to make one such inquiry then you can also refer to the Sample Inquiry Letter for Computer Course shared in this post. You can use this course enquiry letter sample for writing your own letter. Keep this enquiry letter format as a base for writing a flawless formal letter.
Format for Inquiry Letter for Computer Course
From:
Henry Ray
45, Hummingbird Apartments
California
Date: October 19, 2023
To,
Mr. Leo Gibson
Centre Head
New Era Computer Academy
California
Sub: Inquiry letter for computer course
Dear Mr. Leo,
I, Henry Ray, am writing this letter in order to enquire about the computer course with your esteemed institution. I am an engineering student who wishes to specialize in computer science and I need a course which gives me a chance to learn the different programing languages like Java, C and C++ in order to learn the basics of programming.
I am looking for a course that is part time or a course that offers classes on the weekends as I have my college during the week and it would be really difficult for me to have an everyday class. I would also like to know if the students get any kind of certificate for such courses, the duration of the course and the fee for the course.
I would appreciate if you could respond to my query as soon as possible so that I can enroll for the best possible course without wasting any time.
Thanking you in anticipation.
Sincerely,
Henry Ray