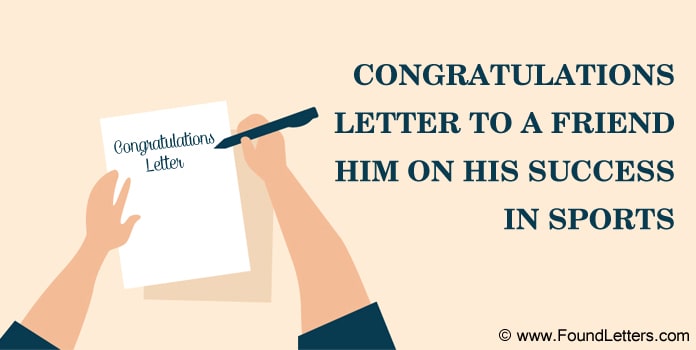 A Congratulations Letter always makes a winner feel special. If you have a friend who has attained success in sports then writing a congratulations letter to friend for success is something you must do. Writing a letter to friend congratulating him on his success in sports/games means a lot.
In this post, we bring to you Congratulations Letter to a Friend template. You can write a letter to your friend congratulating him on his success in sports using the congratulations letter format that has been shared below and you can also follow the congratulations letter to a friend writing tips for more clarity.
Tips to write a letter to your friend, congratulating him or her on his or her success
If you are wondering how to write a congratulations letter to your friend then we bring to you the congratulation letter writing tips that must be followed:
Keep the tone of the letter warm and friendly
Make sure you include the reason for writing the letter in the very first paragraph
Include the details in relation with the event or award
Don't forget to express your emotions
Include a few words of appreciation
Keep the letter short and to the point
Don't forget to proofread before sending it
Letter to Friend Congratulating Him on His success in sports
From:
Ana Brown
54, Remington Street
London
Date: February 12th, 2021
To,
Bobby Smith
88, St. Anthony's Road
London
Dear Bobby,
I just got to know about your impressive performance at the State Level Football Competition that was held on February 08th, 2021. I am writing this letter to congratulate you on delivering an excellent performance and earning the first rank for your college. I am aware that it must have been a real tough competition as the best teams from all over London had participated but you were able to beat them all with your amazing skills. Congratulations to you!!
As you celebrate your success, I just want to tell you that I am really proud of you and your dedication towards your game. I am sure all the hard work that you have put in the game for years has brought you this glory.
May you are blessed with greater success in games ahead in this tournament. Once again, congratulation to you.
Regards,
Ana
Other Related Congratulations Letter
Congratulations Letter to a Friend on Winning a Scholarship
Congratulations Letter to a Friend on Success in a Competition
Election Congratulations Letter
Congratulations to New Owners
Congratulations to New Business
Congratulations on Increased Sales
Congratulations on Formation of New Company
Sample Congratulations Scholarship Letter
Sample Congratulations on Promotion Letter
Sample Congratulations on Your Retirement Letter
Top Sample Letters Terms: