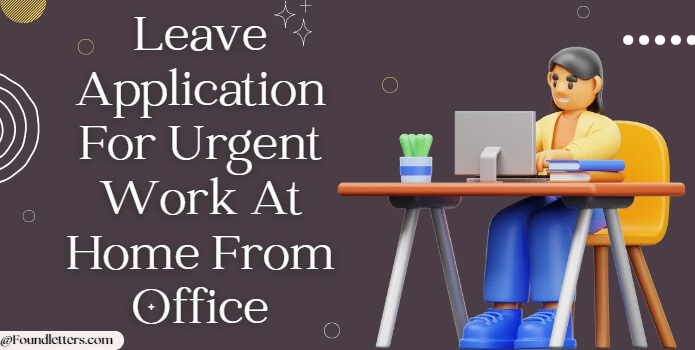 If you have some urgency on the personal front and you are looking a leave from work then you must write an application for the same. This kind of a short leave application for urgent work must include the reason because of which you intend to work.
In this post we have come up with Leave Application for Urgent Work with Sample. You can utilize this leave application format in English for writing your own letter for leave.
Leave Application Format for Urgent Piece
From:
Adam Smith
54, Richmond Apartments
New York
Date: January 26th, 2023
To,
Mr. Henry Gibbs
Manager
Zenith Technologies
New York
Sub: Regarding leave application for urgent work
Dear Mr. Henry,
This is to inform you that I will not be able to make it to the office on January 26th, 2023 as there is some urgent work that has surfaced on my personal front. So I request you to please grant me a leave for today.
Thanking you in anticipation.
Sincerely,
Adam Smith
Other Related Leave Application Letter Format and Examples
Leave Application for Urgent Personal Matters
Return to Work after Maternity Leave Letter
Child Care Maternity Leave Extension Application
Food Poisoning Sick Leave Email For Office
One Day Leave Application for Personal Reason
Sample School Leave Letter
School Leave Application Letter
Sample Leave Of Absence Letter
Sample Paternity Leave Letter
Sample Medical Leave Letter
Marriage Leave Application Letter
Sample Leave Letter To Boss
Leave Letter For Condolence Letter
Top Sample Letters Terms: