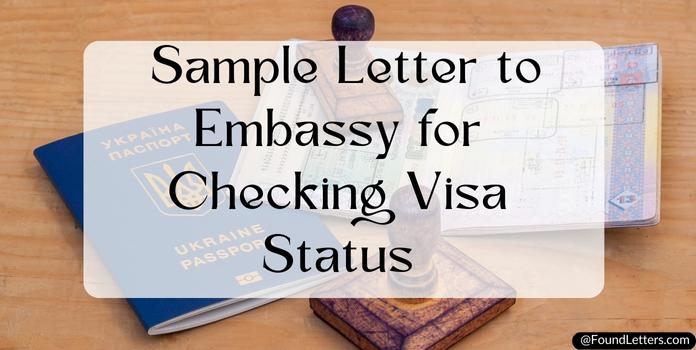 Sometimes visas take longer than expected and in such a situation it is always good to Write a Letter to Embassy for Visa Status. The Formal Letter to Embassy For application Status is a formal way of checking your visa status with the embassy. This is a simple letter which must contain all important details in relation with your visa and passport.
This post includes a Sample Letter to Embassy for Checking Visa Status along with the guidelines for writing one such letter. This Visa status letter sample can be used for creating a personalized letter in an easy way.
How to write a letter to embassy for visa status
Keep in mind the following points for writing a letter to the embassy for checking your visa status:
Formal tone: Make sure that the tone of the letter is formal.
Details: Your letter must include all the important details like the application number and date, passport number so that the authorities can track your application.
Mention about emergency, if any: It is always recommended that you should include if there is any emergency for the vias.
Include your contact details: Make sure that before ending your letter you have included your contact details for the embassy to get in touch with you.
Letter Format to Embassy for Visa Status
From:
Rita Smith
54, Richmond Villas
New York
Date: 24 July, 2023
To,
The Visa Officer
Australia Embassy
New York
Sub: Regarding status of visa application.
Dear Sir/ Madam,
I, Rita Smith, am writing this application to know the status of my visa application to Australia that was submitted on April 3rd, 2023. I have applied for a student visa as I have been selected for admission in the Australian University. At the time of submitting the application, I was informed by the officials at your office that the processing of visa takes up to three weeks and now it has been over five weeks and I still haven't received my visa.
Therefore, I am writing this letter to kindly look into the matter and inform me about the status of my visa application as I am supposed to be reporting at the university in Australia on July 1st, 2023 and moreover, there is some paperwork that needs to be done for the university after receiving the visa. My passport number is ADBNM12345 and once the visa has been approved, I am required to upload the same on the official website of the university to have the admission process completed and the deadline to do the same is July 20th, 2023. Also, I need to confirm my tickets and pay my college fees.
I would like to request you to inform me about the status of my visa application at the earliest so that my admission procedure gets completed within the time frame. For any more information, please feel free to contact me at 9898989898.
Thanking you.
Sincerely,
Rita Smith
Top Sample Letters Terms: