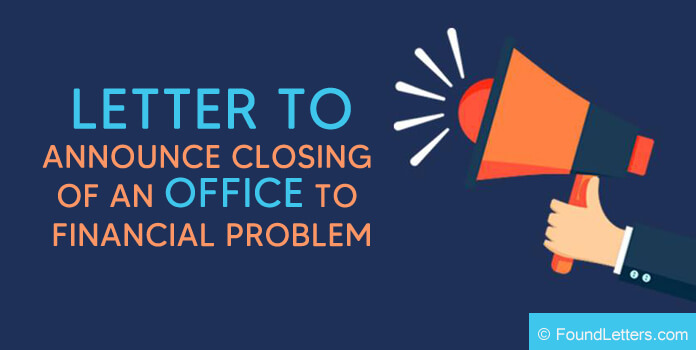 If an owner of the company has decided to close the officer because of financial problems then the same should be communicated to the employees as well and for doing that a formal Letter Announcing Office Closing due to Financial Problem should be written. The Office Closing Announcement Letter is a simple letter that appreciates the employees and also Announces an Office or Store Closing to Employees in a formal manner.
In this post, we have come up with a Business Closing Letter. This Closing letter example can be used for creating a personalized letter.
Sample Format For Letter Announcing Office Closing due to Financial Problem
Date: May 5, 2022
Dear Employees,
With deep regret, I am writing this letter to inform you all that the Management has decided to close our Necklace Road, California office because of financial reasons. As you all are aware that from last two years, the company has been facing serious financial crunch because of the pandemic and in such a situation, maintaining office at such a posh locality is turning out to be a big burden on the finances of the company. All efforts were made to delay the decision for the longest possible times but now it seems inevitable.
From the bottom of our hearts, we would like to thank all our employees for working with the best of their efforts and for standing by the company through good and bad times. We understand that this decision will also affect you all at your personal levels but there was no other choice but to take such a strong decision for greater good.
We give you our word that as and when the situation is going to improve and our business will get back on track, we are going to being the process of hiring again and we would always give our old loyal employees a priority in hiring. For now, the management has decided to pay all the employees a three months' pay in advance. The last working day of this office will be May 15th, 2022. We request you all to please clear all your dues and also take your recommendation letters, if required, before the final closure.
In case of any other queries, please get in touch with Mr. Andrew Gibbs, HR Manager at 9898989898.
Regards,
Richard Smith
Manager
Zenith Technologies
California
More Related to Announcement Letters
Letter For Cancelling Slot at Exhibition Due to Financial Problems
Auditions Announcement Letter
Bonus Announcement Letter
Business Announcement Letter
Christening Announcement Letter
Company Outing Announcement Letter
Death Announcement Letter
Graduation Announcement Letter
Supervisor Job Announcement Letter
Holiday Announcement Letter
IBM Announcement Letter
Job vacancy announcement letter
New Branch Announcement Letter
New Course Announcement Letter
New Product Announcement Letter
Pregnancy Announcement Letter
Employment Announcement Letter
New Job Announcement Letter
Top Sample Letters Terms: