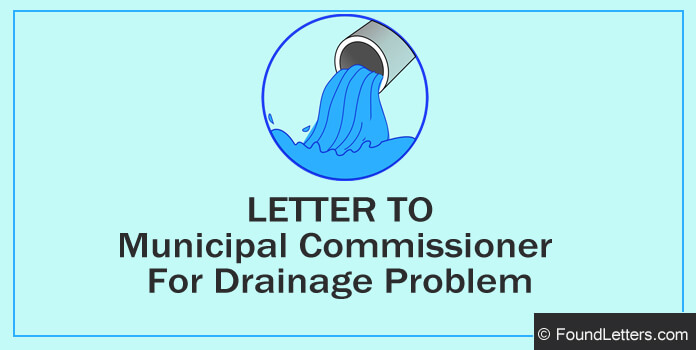 Drainage problem is a serious issue and if you are suffering from it then in order to have it fixed you have to write a letter to municipal commissioner for drainage problem. This kind of an application letter is a complaint letter for drainage problem which includes the location and the seriousness of the issue. You can even write an online complaint for drainage problem if you cannot write a complaint letter for drainage problem that can be sent via post.
In this post, we have come up with the sample letter to municipal commissioner for drainage which can be used for drafting a personalized letter for highlighting the issue.
Letter Format to Municipal Commissioner For Drainage Problem
From:
John Gibs
54, Model Town
California
Date: April 15, 2022
To,
The Municipal Commissioner
Municipal Commission
California
Sub: Regarding drainage problem
Respected Sir,
I am writing this letter to inform you about the issues with drainage system in our locality. Presently, the status of drainage system is such that whenever it rains in the area, there is serious water clogging. What adds more to the situation is that our locality is around two to three feet deep compared to the adjacent areas which further worsen the situation.
In recent times, due to a slight rainfall in the area, it was shocking to see how much water got collected outside our houses. Therefore, I am writing this letter to bring to your notice the present situation of the drainage in our area. This problem, if not solved as soon as possible, it can lead to serious damages in the coming rainy season. Not just that it can also lead to traffic jams in the area.
I am hopeful that you will take this matter as urgent and take corrective actions to solve the drainage problem in our area.
Thanking in anticipation.
Sincerely,
John Gibs
More Complaint Letter Format, Example and Sample
Letter to Municipal Commissioner for Need of Public Park
Letter To Municipal Commissioner For Water Problem
Request Letter To Municipal Corporation For Road Repair
Top Sample Letters Terms: