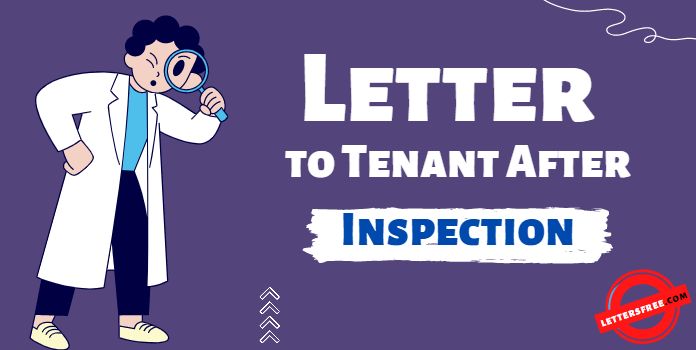 Property owners sometimes conduct periodical inspections of their properties in order to make sure that everything is working fine and all the safety standards are being adhered to. Once the inspection is done, the owner must write a formal inspection letter to tenant. The purpose of Letter to Tenant After Inspection is to inform that the inspection has been done along with the result of the inspection.
In this post, we bring to you a Letter format to Tenants About a House Inspection. You can use this sample inspection letter in order to write your personalized letter with perfection.
From:
Richard Smith
54, Holland Street
New York
Date: December 20th, 2022
To,
Mr. Robin Brown
88, View Point Apartments
New York
Dear Mr. Robin,
I am writing this letter in reference with the inspection that was recently conducted at the property, with tenancy agreement number 567889, where you have been living from last three years as a tenant.
I would like to inform you that the inspection went well. The duration of the inspection was conducted on December 20, 2022 and the duration of the inspection was two around. I would like to share that all the furnishing and appliances were in good condition. The property was found clean and has been maintained well by you. All the safety standards at the property are very much within the prescribed limits by the government.
As everything is in place then we can go ahead with renewing the rental agreement if you wish to continue living at this property.
Looking forward to hear from you.
Sincerely,
Richard Smith
Other Related Tenant Letter Format
Sample Tenant Complaint Letter
Tenant Recommendation Letter
Tenant Reference Letter
Letter of Eviction to Tenant
Request Tenant To Repair Damage To Property Letter
Top Sample Letters Terms: