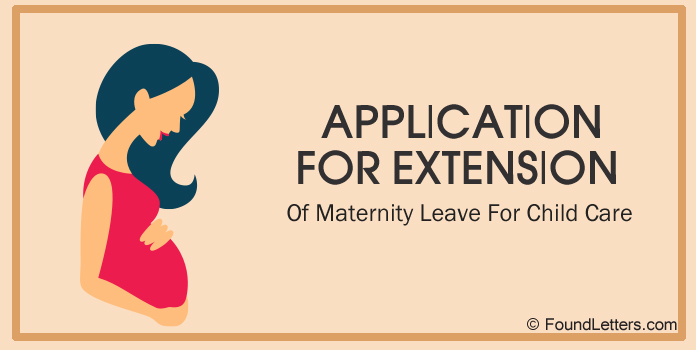 The concept of maternity leaves gives mothers a chance to be there with their younger ones after delivery but sometimes the maternity leaves seem to end too fast. If you are seeking extension of maternity leave due to COVID or otherwise then you can write an application for child care leave. The maternity leave extension request letter format is a formal way of submitting the request for more maternity leaves. The child care leave application sample makes it an easier way of putting across your request.
In this post, we have come up with Maternity Leave Extension Letter Sample. You can write your own maternity leave extension mail due to baby care by using this format.
Child Care Maternity Leave Extension Request Letter Format
To,
Susan Smith
54, Henry Street
London
Date: March 2nd, 2022
To,
Mr. Ray Mathew
HR Manager
Zenith Technologies
London
Sub: Extension of Maternity Leave
Dear Mr. Ray,
I, Susan Smith, am writing this letter to request an extension of maternity leave. As you are aware that my maternity leave is going to expire on March 25th, 2022, I am writing this application to kindly approve the extension.
Considering the rising cases of COVID, I am submitting this application for extension of maternity leave. As you know that COVID is a threat to everyone and because I am a nursing mother, I am not vaccinated as yet. Therefore, resuming office will not be possible for me considering the threats the pandemic posses.
I request you to kindly approve my extension of maternity leave till April 30th, 2022 as I plan to take the vaccination the coming month and then it will be much safer for me to visit office. Moreover, I also feel that I am not in a condition to resume work on the physical as well as mental front and I strongly feel that I will not be able to give my job my 100%.
I feel that if I will give myself and my baby some more time then I will be in a much better condition to work and fulfill all my duties and responsibilities. For the same, I have spoken to my colleague, Ana Gibbs, and she has promised to extend complete support and will cover for me for the coming months.
I will be extremely grateful if you will approve my request. I promise that I will shortly resume work with the same energies and commitment as before.
Thanking in anticipation.
Sincerely,
Susan Smith
Other Related Leave Application Letter Format and Examples
Return to Work after Maternity Leave Letter
Leave Application For Loose Motions and Vomiting
Food Poisoning Sick Leave Email For Office
One Day Leave Application for Personal Reason
Sample School Leave Letter
School Leave Application Letter
Sample Leave Of Absence Letter
Sample Paternity Leave Letter
Sample Medical Leave Letter
Marriage Leave Application Letter
Sample Leave Letter To Boss
Leave Letter For Condolence Letter
Top Sample Letters Terms: