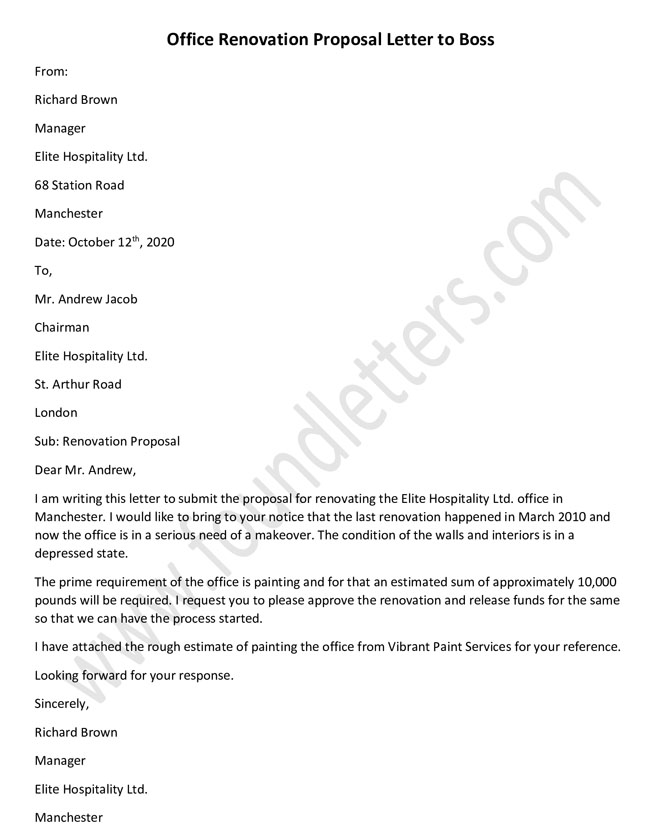 If you think that your office needs a renovation that the protocol calls for writing a proposal letter for renovation of office to boss. The purpose for submitting proposal for office renovation is to highlight the urgency of renovation and what all tasks are required to be undertaken. If you are wondering how to frame a proposal for office renovation then you can follow different renovation project proposal templates and renovation proposal samples.
In this post, we have come up with the office renovation proposal letter template. Use the sample request for renovation of office to submit to your boss.
Office Renovation Proposal Letter to Boss
From:
Richard Brown
Manager
Elite Hospitality Ltd.
68 Station Road
Manchester
Date: October 12th, 2020
To,
Mr. Andrew Jacob
Chairman
Elite Hospitality Ltd.
St. Arthur Road
London
Sub: Renovation Proposal
Dear Mr. Andrew,
I am writing this letter to submit the proposal for renovating the Elite Hospitality Ltd. office in Manchester. I would like to bring to your notice that the last renovation happened in March 2010 and now the office is in a serious need of a makeover. The condition of the walls and interiors is in a depressed state.
The prime requirement of the office is painting and for that an estimated sum of approximately 10,000 pounds will be required. I request you to please approve the renovation and release funds for the same so that we can have the process started.
I have attached the rough estimate of painting the office from Vibrant Paint Services for your reference.
Looking forward for your response.
Sincerely,
Richard Brown
Manager
Elite Hospitality Ltd.
Manchester
More Related to Proposal Letter Format
Sample Sponsorship Proposal Letter
Sample Proposal Cover Letter
Sample Request For Proposal Letter
Sample Proposal Rejection Letter
Proposal Letter To Offer Services Letter
Proposal Letter To Company
Proposal Letter To Bank Letter
Proposal Letter To a Client
Proposal Letter For Project
Job Proposal Letter
Counter Proposal Letter
Top Sample Letters Terms: