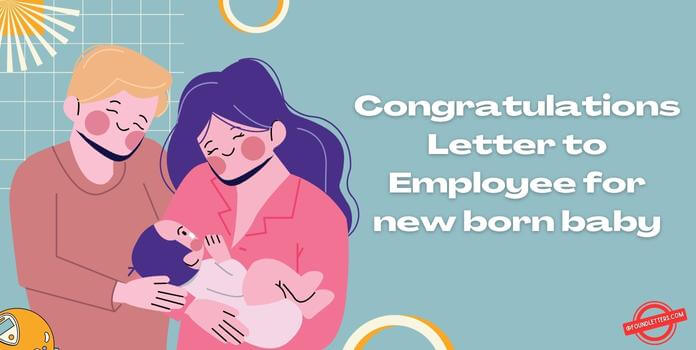 If any of your employee has been blessed with a baby then it is time to write a formal Congratulations Letter to employee for new born baby. Employees are like family and when they have a new member in the family. The new baby congratulations letter is supposed to be a simple but heart warming letter.
In this post, we have come up with a sample congratulation letter for new born girl and boy. You can use this sample letter for new born baby announcement to send across your warm wishes. Have this employee new baby announcement letter shared in order to make this occasion all the more special for your employee.
Sample Format for Congratulations Letter to Employee for Newborn Baby
From:
Richard Brown
Manager
Marketing Department
Zenith Technologies
New York
Date: October 06, 2023
To,
Mrs. Susan Black
54, Richmond Town
New York
Dear Mrs. Susan,
Congratulations to you and your husband on the arrival of your new born baby girl. The long wait of nine months has finally ended and you have your little princess in your arms. And here, at Zenith Technologies, we all are extremely happy for you and your family.
The little girl looks exactly like you. She has your smile and your eyes. I will make sure that I am there for the baby shower to meet and bless the baby and congratulate you in person.
Make sure that you make the most of these beautiful times with your little sweetheart. And I know that you are going to make a wonderful mother. Enjoy every bit of parenthood.
Congratulations to you again.
Regards,
Richard Brown
Manager
Marketing Department
Zenith Technologies
New York