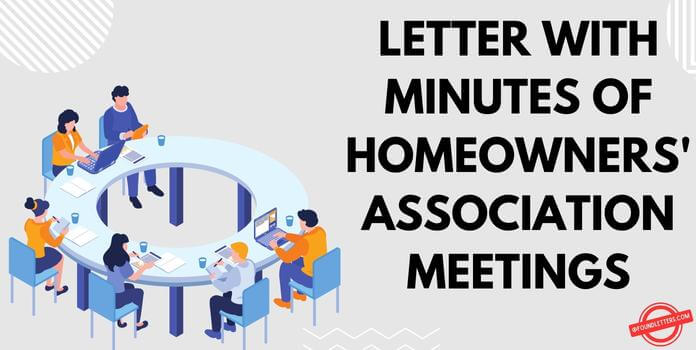 It is important to keep everyone associated with the meeting about the minutes of the meeting. The idea behind such letters is to keep everyone informed about what was discussed or concluded at the meeting in a formal manner.
In this post, we have come up with a formal letter with minutes of homeowners' association meetings. All you have to do is keep this template as the base for creating a customized draft that rightly fits in your needs.
Format for Letter with Minutes of Homeowners' Association Meeting
From:
Arnold Smith
President
Welfare Committee
Richmond Homeowners' Association
New York
Welfare Meeting
Present: Andrew Brown, Ana Hay, Wilson Black, Mike Tyson, Arnold Smith.
Andrew Brown called the meeting on July 25th, 2023 at 5 pm at the Richmond Homeowners' Association Office. He asked Ms. Ana Hay to read the minutes of the last meeting that was held on June 30th, 2023 which were approved without any revision.
The meeting then started with the report submitted by Wilson Black on the financial requirements of the welfare event that is supposed to be organized in the month of September this year. The numbers submitted by her suggested that we would be needing an amount of $ 3000 in order to organize this event. And after soliciting from the residents as well as the sponsors, the committee has been able to come up with an amount of $ 2800. Mike Tyson then agreed to make an offer of remaining $ 200 by agreeing to make his company one of the sponsors of the events.
Andrew Brown reported that as of now, we have 90 participants in the event who are going to be putting up their stalls and will be performing at the event. Around 150 families have also submitted their confirmation for the event.
The next meeting has been scheduled to further discuss about the event in detail and the group agreed to meet on August 10th, 2023 at 5 pm to discuss the same.
Sincerely,
Arnold Smith
President
Welfare Committee
Richmond Homeowners' Association
New York