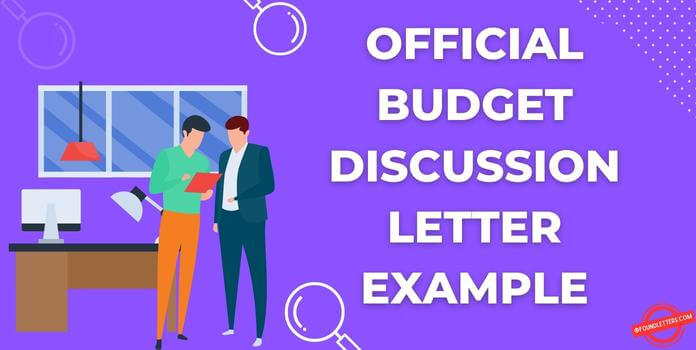 An official budget letter is a kind of formal letter which is written in order to discuss the budget with any colleague, boss or any other person. It is a kind of letter that is written between two people who know each other in official capacity and intend to discuss some points of the deal or argue about it in some way.
In this post, we bring to you an official budget discussion letter example. You can simply keep this format as a base for creating a personalized letter for officially discussing the budget with any of the people in your office.
Format for Official Budget Discussion Letter
From:
Anthony Smith
Project Manager
Zenith Technologies
New York
Date: Sept 11, 2023
To,
Mr. Adam Gibbs
Manager
Zenith Technologies
New York
Sub: Budget discussion
Dear Mr. Adam,
I was happy to know about the upcoming project "Ellora Applications" at the monthly meeting that was organized the last week. I carefully understood and analyzed the project and I am happy to tell you that I am onboard with you on this project. It is going to be one of a kind of application that the market is going to witness. I am sure that the management is also going to approve of it as it is going to make us the pioneers in having such a unique and niche application.
For discussing the same, I would like to meet you in person and discuss about the budget of the project so that we can make the optimum utilization of the finances that we have available with us. I read through the budget proposal that was submitted at the meeting and I strongly feel that we need to reallocate our finances considering the present market situations. We will have to make sure that each penny that we are going to put in this project is put wisely and once we are going to sit and discuss about it on the table, I am sure we will be able to come up with the best decision.
We can have a meeting on August 30th, 2023 as we have the launch of one of our applications in the next two days. We can meet post lunch at 2 pm and discuss the budget in detail. I would request you to please confirm me the meeting date and time so that we can take this project ahead. I will also inform the representatives to be prepared for the meeting and meet us with the required documents and figures.
Thanking you.
Sincerely,
Anthony Smith
Project Manager
Zenith Technologies
New York