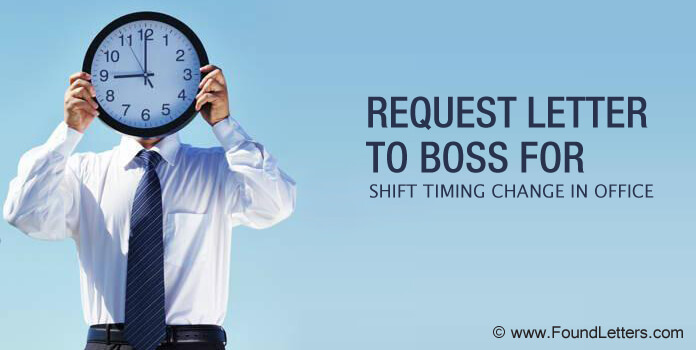 If there is some reason because of which you need your work schedule to be changed then you need to write a request letter to boss for shift timing change in office. Just by writing a request letter for shift change in office hours, you can put forward the need of such a change by including the reason for such a request in your letter. You can write the shift change request letter to boss or manager.
In this post, we have come up with a shift change request letter format. You can use this shift change request letter format to formally put forward your request to your boss.
Request Letter Format to Boss for Shift Timing Change in Office
From:
Andrew Black
54, Richmond Apartments
New York
Date: November 29, 2021
To,
Mr. Oslo Mathew
Human Resource Manager
Zenith Technologies
New York
Sub: Change in shift change
Dear Mr. Oslo,
I am writing this letter to request you to place change my shift schedule from 9 am – 5 pm to 1 pm – 9 am for a duration of three months starting from 1st December 2021 to 31st January 2022.
I am requesting this change in schedule because I have applied for a part time management program for three months which will be starting on December 1st, 2021. The timings for the class for the same will be from 9 am to 11.30 am from Monday to Friday. For your reference, I have attached the roaster for the class for the course.
I have been associated with Zenith Technologies since the beginning of my career in January 2020 and I have always been punctual and impeccable with my working. This course is going to give me an opportunity to progress in my career. Therefore, I am hopeful that you will consider this request and allow me this change in the schedule.
Thanking in anticipation.
Sincerely,
Andrew Black
Sales Executive
Zenith Technologies
Top Sample Letters Terms: