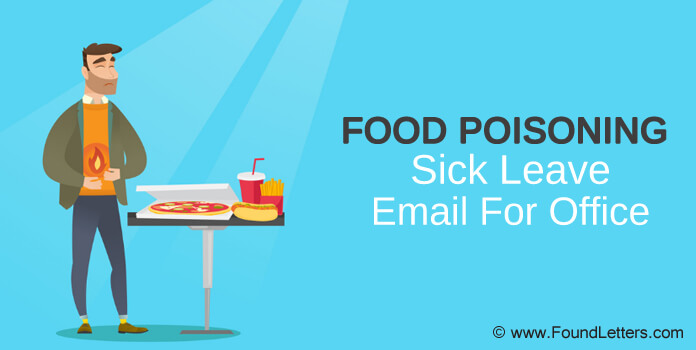 Food poisoning can happen to anyone and if you have fallen sick because of food poisoning then you must write sick leave mail to manager or food poisoning sick leave email for boss to inform them about your absence from work because of food poisoning.
In this post, we have come up with a food poisoning sick leave format. You can use the sample leave application format for food poisoning to create a customized food poisoning sick leave email for boss in a formal manner.
Sample Leave Application Format for Food Poisoning
Dear Sir,
I am writing this email to inform you that I will not be able to report at work today as I have been affected by food poisoning. As a result of the same, I have been having continuous vomiting since last night and in such a condition I will not be able to come to office today.
Therefore, I request you to kindly understand my situation and allow me to take a sick leave for today. In case of any work related emergency, I will be available on email as well on phone.
Thanking you.
Sincerely,
Adam Mathew
Other Related Leave Application Letter Format and Examples
Return to Work after Maternity Leave Letter
Child Care Maternity Leave Extension Application Format
Leave Application For Loose Motions and Vomiting
One Day Leave Application for Personal Reason
Sample School Leave Letter
School Leave Application Letter
Sample Leave Of Absence Letter
Sample Paternity Leave Letter
Sample Medical Leave Letter
Marriage Leave Application Letter
Sample Leave Letter To Boss
Leave Letter For Condolence Letter
Top Sample Letters Terms: