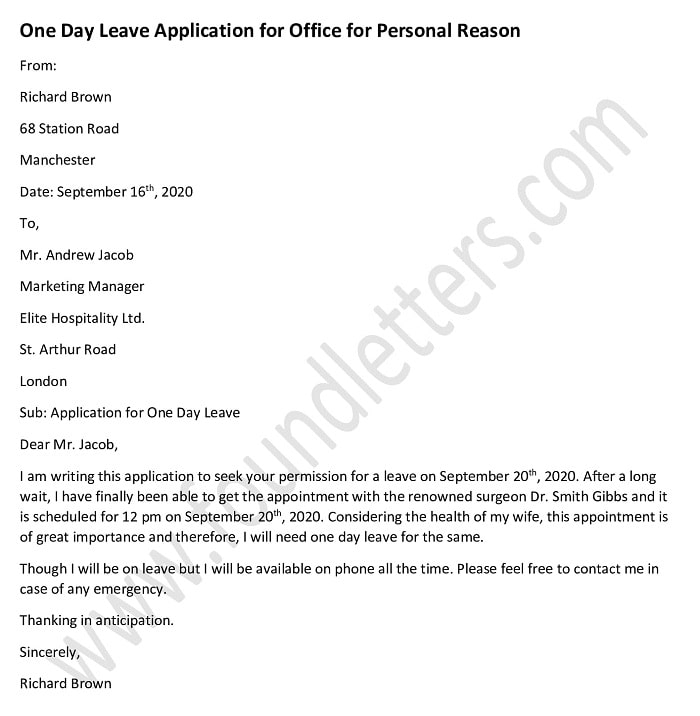 If you are in need of a one day leave for personal reason then you need to write a personal leave letter to your manager or boss for approval. If you are thinking about the leave application format then you can follow sample leave letter for personal reason. Referring to 1 day leave application format will give you decent idea about creating a formal one day leave application for urgent work.
In this post, we have come up with one day leave application for office for personal reason. Follow the one day leave application letter sample to create your own letter.
One Day Leave Application for Personal Reason Format
From:
Richard Brown
68 Station Road
Manchester
Date: September 16th, 2020
To,
Mr. Andrew Jacob
Marketing Manager
Elite Hospitality Ltd.
St. Arthur Road
London
Sub: Application for One Day Leave
Dear Mr. Jacob,
I am writing this application to seek your permission for a leave on September 20th, 2020. After a long wait, I have finally been able to get the appointment with the renowned surgeon Dr. Smith Gibbs and it is scheduled for 12 pm on September 20th, 2020. Considering the health of my wife, this appointment is of great importance and therefore, I will need one day leave for the same.
Though I will be on leave but I will be available on phone all the time. Please feel free to contact me in case of any emergency.
Thanking in anticipation.
Sincerely,
Richard Brown
More Related to Leave Application Format
Return to Work after Maternity Leave Letter
Leave Application Format For Loose Motions For Office
Food Poisoning Sick Leave Email Format
One Week Leave Application to Family Function
Sample Sick Leave Letter
Sample School Leave Letter
School Leave Application Letter
Sample Leave Of Absence Letter
Sample Paternity Leave Letter
Sample Medical Leave Letter
Marriage Leave Application Letter
Sample Leave Letter To Boss
Leave Letter For Condolence Letter
Top Sample Letters Terms: