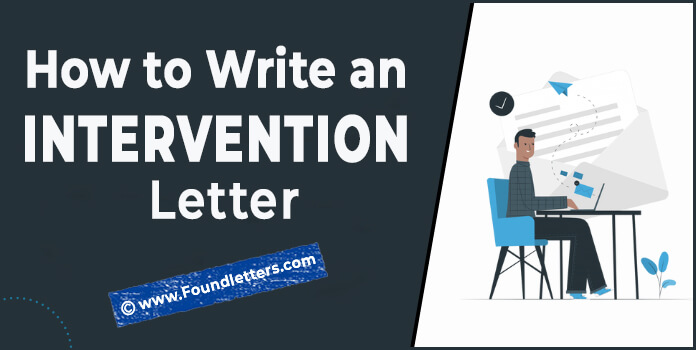 An intervention is a when a loved one or family member of a drug addict meet with them to communicate about how their addiction has affected their and every one else's life around them and why they should seek a treatment for their addiction.
It is a very emotional and time-consuming process and so many people prefer to write an intervention letter that is read aloud at the time of intervention. The meeting is emotionally heavy and difficult to process and so being prepared by writing a letter helps to get things in order.
In this post, there are tips for writing a great intervention letter, examples of an intervention letter and sample intervention letter format that will help.
Tips for Writing a Great Intervention Letter
There is no hard and fast format to stick to while writing an intervention letter. The most important thing to keep in mind while writing an intervention letter is the tone of the letter and the words chosen to express the problem.
Words can be hard hitting and might hurt the person who is going through the situation and hence, need to be put together in a compassionate manner.
Start out by writing about how important the person and your relationship with them is to you. Tell them how grateful you are to have them in your life.
Building a gradual step towards, state the purpose of the meeting in a very compassionate tone.
Write about how you care for them and this state of their addiction is something that you cannot see them go through. In a very sympathetic tone, mention about how this addiction is a medical condition and can be cured through a medical treatment.
Tell them about what you have planned for them and how you will manage everything and support them on their journey by taking care of everything behind while they are away.
Suggest them some rehabilitation programs or medical treatment courses that they can enroll for and how you will help them in that process.
Write about how all this that you are doing will turn out in a good way for them even though they might not realize it right now.
They might not take this conversation in a way that you have expected but presenting your words and emotions in a way that is easy for them to understand and process will make it better.
Sample Intervention Letter Format
Greetings.
I have known you since we were three. We have been best of friends since our childhood and I have seen you grow into the amazing human you have become all through these years. You are very important for me and I care for you.
Things have been going downhill in the last few months. I have lost my best buddy and I am devastated. I try to reach out but you are not there almost every time. I do not know how this friendship is going to sustain without you, with just me being here.
I am worried about you and your wife, Daisy and children, Joey and Clair. I am concerned about your health and I feel like I have lost you.
Addiction is a medical condition that is chronic but there is a way out of this and I believe that you will improve and get better, for yourself and everyone who loves you. We will be by your side in this journey of rediscovering yourself and getting life back together on track.
I have been looking for different clinics that provide treatment. Here is a list of the ones I have short listed. Please know that all we want is for you to be well and happy. I hope you will go through this list and let me know which one you want to enroll in.
I will be there for you throughout the journey. I will drive you up to the rehabilitation center. Whatever you choose to do, know that we love you and will always love you. It might seem difficult and impossible right now but know that I am here for you.
All I want is for you to be okay; for your family, your yourself and for me. Let me know what you have decided and know that I will always be there to support and encourage you through every phase of life.
With love
Jack
You may like also: Sample Authorization To Release Medical Records-Letter 2
Top Sample Letters Terms: