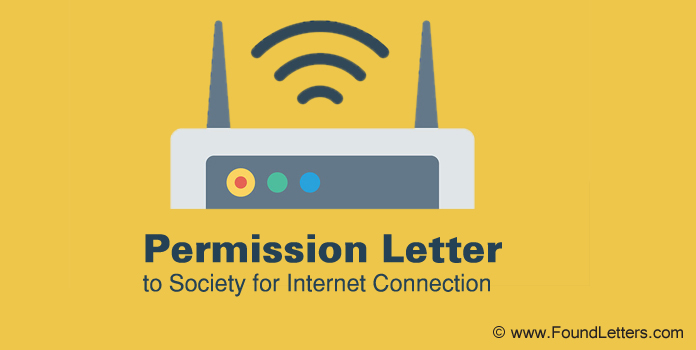 Not all societies and apartments allow installation of internet and therefore, in such a situation the residents or the tenants have to write a permission letter to society. The society permission letter for internet connection is a short and precise letter that seeks the permission for internet as well as states the reason that why it is so important. The permission letter format is quite simple and it must always address to the right person.
This post includes a sample letter to society for permission for internet connection. The request letter for new internet connection can be designed by following the format for permission letter to society for internet connection shared below.
Sample Letter Format to Society for Permission for Internet Connection
From:
Michael Gibbs
B 404, Western Apartments
New York
Date: November 25, 2021
To,
Ms. Dorothy Reynolds
Secretary
Western Apartments
New York
Sub: Regarding permission for internet connection
Dear Ma'am,
I am writing this letter to request you to kindly grant the permission for installing internet connection on the rooftop of our block. As you are aware that after the pandemic, many companies have permanently allowed work from home to their employees and I work for one such organization. In this situation, I need a strong and stable connection so that my office work does not get hampered because of weak internet connection.
Therefore, I request you to please allow me to have an internet connection of higher bandwidth installed in our society so that myself and many other residents like me can enjoy smooth and stable internet speed while working from home.
Looking for a positive response from your side.
Sincerely,
Michael Gibbs
Other Related Letter Formats
Excuse Letter from Work due to Sickness
Work Permit Letter from Employer Format
Top Sample Letters Terms: