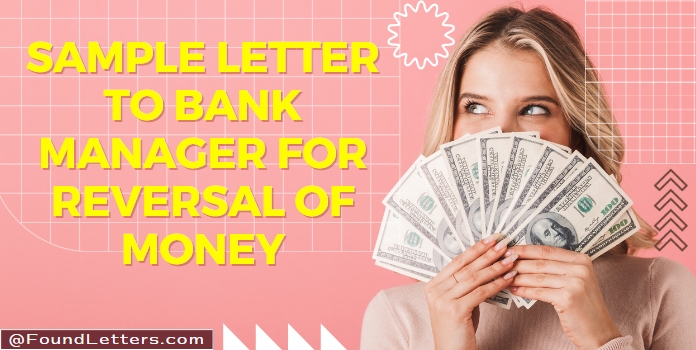 If there is a certain amount that is required to be reversed to your bank account then you can always write an Application to Bank Manager for Refund Money by using the Sample letter to bank for Refund. There are Complaint Letter Templates that help you create a Complaint Letter for Refund of Money from Bank.
This post includes a sample letter to bank manager for reversal of money. You can use this Refund Letter Format which can be personalized for creating a letter that rightly fits in your needs.
Application to Bank Manager for Reversal of Money
From:
Richard Smith
45, Henry Villas,
New York
Date: June 27th, 2023
To,
The Branch Manager
New Era Bank
New York
Sub: Regarding reversal of money.
Respected Sir/ Madam,
I, Richard Smith, am a account holder in your bank from last ten years and I maintain a preferred savings account bearing account number 123456.
On May 24th, 2023, I received an SMS from your bank that I have been charged for the debit card that has been issued by your bank and annual charge of $ 50. I would like you to reverse these charges and reverse the money into my account because the debit card that I have been issued with does not come with any annual charges and I have been given it free of any charges as I maintain a handsome sum of money in my account.
I would like you to kindly look into the matter and have the money reversed into my account. Here are the details of the transaction for your reference.
Transaction ID: 789456
Transaction Date: May 24th, 2023
Transaction Time: 13.02 pm
Account Number: 123456
Amount to be refunded: $ 50
If you have any further queries then please call me at 9898989898.
Sincerely,
Richard Smith
Top Sample Letters Terms: