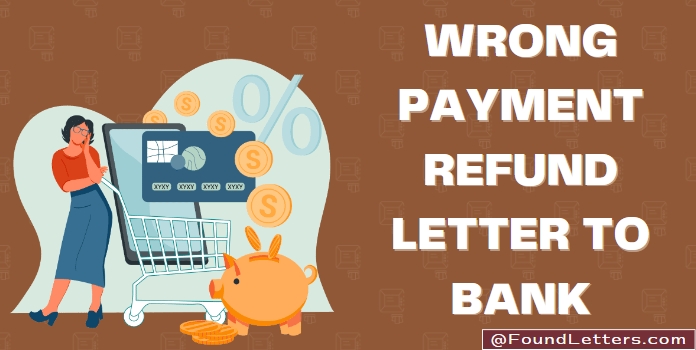 In case of a wrong payment being made, you can always write a wrong payment refund letter to bank. This kind of an Application to Bank Manager for Refund Money is required to include all the details about the wrong payment that was made.
We have come up with a Sample letter to bank for Refund. This is a simple Complaint Letter Template that makes a perfect Refund Letter Format for creating a customized draft of Complaint Letter for Refund of Money from Bank.
Sample Letter To Bank Manager for Wrong Money Transfer
From:
Richard Smith
45, Henry Villas,
New York
Date: July 1st, 2023
To,
The Branch Manager
New Era Bank
New York
Sub: Regarding refund of wrong payment
Respected Sir/ Madam,
I, Richard Smith, am associated with your bank from last eight years and I maintain a savings bank account with your bank bearing the account number 123456.
I am writing this letter to bring to your notice that while making an online transaction on July 1st, 2023 of $ 85, I made a wrong payment to a different merchant who was added as a beneficiary in my account. Therefore, I would like to request you to have this payment reversed and have the money refunded back to the source i.e. my savings account.
Shared below are the details of the transaction:
Transaction ID: 789456
Transaction Date: July 1st, 2023
Transaction Time: 13.02 pm
Account Number: 123456
Amount to be refunded: $ 85
If there is any more information that you need from my end then please call me at 9898989898.
Thanking you in anticipation.
Sincerely,
Richard Smith
Top Sample Letters Terms: