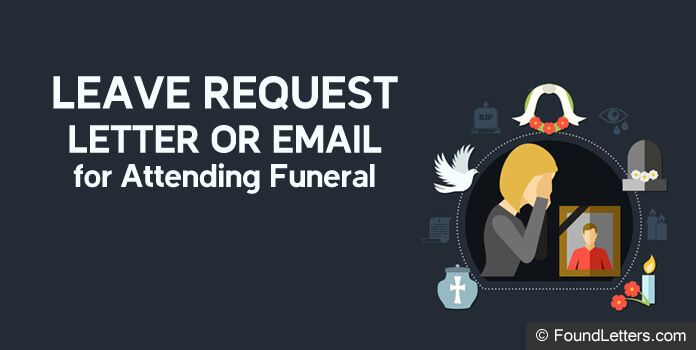 If there is a death in your family and you need to go for a funeral then you have to write a funeral leave letter to your manager for seeking the permission for the same. The Leave letter for Attending funeral ceremony is a simple letter that includes the number of days for which you will be absent.
In this post, we bring to you a formal leave letter format. You can use the Sample Leave Letter Format for Attending Funeral for creating your own letter or email. Follow this Sample Leave Application for Attending Funeral from Office to make sure you don't miss on anything important.
Sample Leave Request Letter for Attending Funeral
From:
Simon Smith
54, Richmond Apartments
New York
Date: May 27, 2022
To,
Mr. Robin Roy
Manager
Zenith Technologies
New York
Dear Mr. Robin,
I am writing this letter in order to request you for a leave of two days to attend the funeral of my uncle in California. He passed away today and the funeral has been decided to be held tomorrow in California.
Therefore, I will not be able to attend the office for two days i.e. May 28th, 2022 and May 29th, 2022. I shall be able to resume work on May 30th, 2022. During my absence, I will be available to take calls and respond to emails.
Thanking you.
Sincerely,
Simon Smith
Other Related Leave Letter Format and Examples
Leave Letter For Condolence Letter
Sample Death Announcement Letter
Work from Home Request Letter Format to Boss
Leave Application For Loose Motions and Vomiting
Food Poisoning Sick Leave Email For Office
One Day Leave Application for Personal Reason
Sample School Leave Letter
School Leave Application Letter
Sample Leave Of Absence Letter
Sample Paternity Leave Letter
Sample Medical Leave Letter
Marriage Leave Application Letter
Sample Leave Letter To Boss
Leave Letter For Condolence Letter
Top Sample Letters Terms: