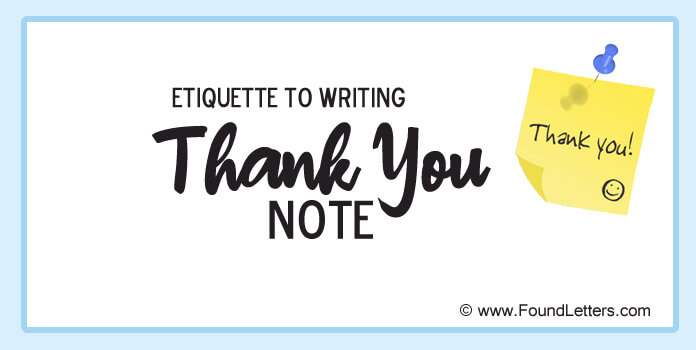 Thank you note is about expressing gratitude. This simple concept is used to express appreciation in lieu of something good done to you or for a certain gift received. However, these notes can be intimidating at times. They are a way of saying how you feel about the gift and how was it helpful to you. They are normally sent in situations such as for wedding gifts, flowers, bridal or baby shower gifts, after being entertained by boss, after being hosted as a houseguest, for notes or gifts of congratulations etc.
Basic Thank You Note Writing Etiquette
Here are the basic etiquettes you may apply while writingthank you notes to friends, families, colleagues or associates.
Use introductory salutations like Dear Mr. / Mrs. Harper or Dear Rose to give a personal touch to your thank you note.
Express your heartfelt gratitude for the gift received. Mention about the gift and how much you loved it. Also mention about how and when you plan on using the gift. Use complimentary compliments.
Never mention anything related to money in your note. Focus on thanking the giver for his/her sweet generosity. Use phrases such as 'Thank you very much for your generous' or 'Thank you for your generosity'.
Mention how you are connected to the giver. Acknowledge your relationship by penning down some fun filled past instances and hope for something similar in the future. If your relationship to the sender is formal, use a formal and standard tone.
Most importantly shower your gratitude. Use phrases such as,' Thank you again for your kind gift.'
Structure of Standard Thank You Notes
The format of a standard thank you note looks something like this:
Salutation: Introductory salutations begin with Dear followed by the first or last name at the top.
Body: The body should not be more than 4-5 sentences long.
Signature: For informal notes, use salutation such as,' love' 'fondly' etc. For not so close recipient, use 'sincerely' or 'best regards'. Your signature should follow.
Date: Cite the date on the left corner.
Return address: In case the letter does not reach its destination, it is sent back to the return address which is generally mentioned on the flap of the envelope.
Saying thank you does not consume much time. But it means a lot to the recipient. Hence respect their emotions and keep it in mind while writing such notes.
Other Related Letter Etiquette Format
Dos and Don'ts Thank You Letter Etiquette
Etiquette to the Art of Apology Letter Writing
Appropriate Business Letter Writing Etiquette
Graduation Congratulations Letter Etiquette
Introduction to Letter Writing Etiquette
Etiquette for Writing Business Letters
Government Official Letter Writing Tips
Letter Writing Etiquette to Catholic Priest
Formal Letter Writing Etiquette
Farewell Letter to Colleagues
Retirement Congratulations Letter Writing
Business Letter Closing
Business Letters with Right Etiquette
Etiquette for Professional Business Letter Writing
Etiquette to Writing Thank You Email after a Job Interview