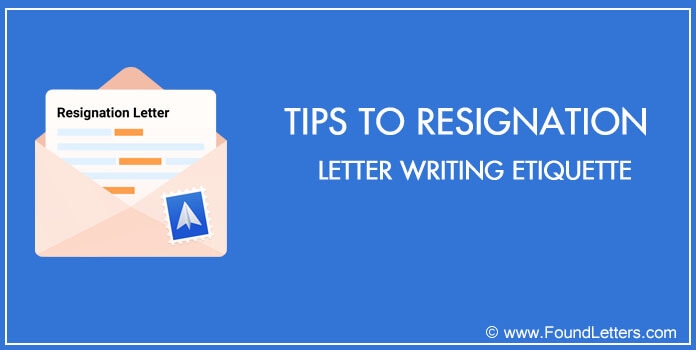 Offering your resignation letter to the company you are working for means the end of your professional relationship with the organization. After all those years of working, your resignation becomes a sensitive issue and you must be able to play the card right. Proper resignation etiquette hence comes a long way. You may not want to cut loose any string with your current employer as you will require them at some point or the other down your career path.
No matter what the reason behind your resignation might be, your resignation letter must be able to convey your message in the most graceful and proper manner. Here is a list of resignation letter writing etiquette that will smooth the whole process.
Resignation Letter Writing Etiquette
Decide beforehand on your last date of work. This way the management will get enough time to fill your vacant position. The date also provides closure for both the employer and employee to terminate the tenure with get on with their future plans.
Never fail to express your appreciation for the company and your job profile. Your letter should carry a positive vibe. Mention about the good things you will always cherish about the organization.
Your letter should be typed in a professional format. Never use handwritten resignation letter as they show high level of unprofessionalism.
Be as brief and polite in your letter as possible. Be extra careful not to include any phrase that conveys any sort of grudge to the company.
Top Tips on what to Include in the Resignation Letter
The tone of resignation letters are normally kept formal. It includes all the basic notions such as name, address, name of employer, date and so on and so forth. Read on for the basic format:
The heading should include the current date, company name and address.
Start your letter with opening salutations such as Dear Mr. /Ms. / Mrs. and the last name of the recipient.
In the introductory paragraph, explain the reason of your resignation in two to three brief sentences.
In the following paragraph, mention about your positive experience in the company. All the fond memories, your learning experience and the accomplishments you achieved. You will need this company in your career path, therefore, speak about no grudges.
Add a complimentary closing and do thank the organization for providing you with a job opportunity in the first place.
Sign the letter with salutations such as Sincerely, Yours truly, Respectfully submitted, Warmest regards etc. followed by your first and last name.
Proofread your letter and print it out. Manually sign your name and sent it within the notice period set by the company.
A tip:
One of the most proper resignation etiquette is to inform your supervisor before you ring the bell in front of your co- workers. Discovering about the same through the grapevine will be the last thing you will want to happen.
Top Sample Letters Terms: